Overview
Holland Baroque, together with violinist Aisslinn Nosky, are guests at Wonderfeel, the outdoor classical music festival that has developed into the most accessible classical music festival in the Netherlands. A festival where you can go on vacation!
'Polonoise' is for curious listeners who want to discover a different side of Telemann. In this album, his sparkling inventions combine with the noble traditions of the Polonaise. Telemann's Danse d'Polonie (TWV 45), in which he notated the dance music he heard during his stay in Poland, inspired the conception of this album. From the starting point of this manuscript,
"A party built around Telemann." (Leeuwarder Courant)
Holland Baroque and Canadian violinist Aisslinn Nosky explored how Telemann applied the Polish style in his own works. Telemann's Polish concertos and dances sound more energetic than ever before. 'Polonoise' takes the listener on a journey to the wild nature of Poland with rolling mountains, pubs, and picturesque villages.
Order tickets for 17 July
Saturday 17 Jul
20:00
's-Graveland, Wonderfeel
order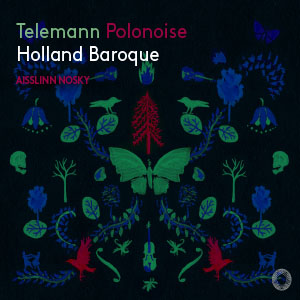 Polonoise
"Polonoise: Heartwarming cheerfulness of Holland Baroque." Het Parool
Together with violinist Aisslinn Nosky, we investigate how Telemann applied the Polish style in his own works.